The final resting place of Jane Mariah Capener Giles
4 November, 2004
Back in November of 2003, my family and I took a little road trip down to San Diego for a vacation. Ever on the lookout for seeing sites of genealogical interest, I thought we could stop by Greenwood Memorial Park and Mortuary where Jane Capener (a wife of Ephraim Hanks) is interred. In a short autobiography of Jane which I have, she says,
"When I go to my last resting place I wish to be laid in the city of the dead at Heber City, Utah, where lies those who have passed on before me and where many of the associates of my younger days, also those that I loved and hope to meet in a fairer land than this."
However, such was not to be. Jane's youngest daughter, Margaret Wicks Taylor Cluff, says this in the same document:
"My one regret is that my mother did not have her wishes carried out. She died at San Diego, California January 6, 1926, and was buried in the mausoleum at San Diego. George and Louise are buried just outside in the cemetery there so she will have some ofher children near at the resurrection morning . . . She was mortally afraid of death because of being put under the ground. The members of her family who were with her at her death were her two sons, Ephraim and George, Louise and Jane Ann. They felt that it would be best to have her laid away in the beautiful Green Wood Mausoleum, so there is where her body rests."
And a beautiful spot it is. We drove in and stopped at the cemetery office as the grounds are quite large, and we would have been hard-pressed to find Jane on our own. The cemetery staff were very helpful, and after clarifying it was Jane Maria Giles I was looking for (she's not listed as Jane Capener), the staff member had located her 'card' (the wrinkles are on my copy of the card :-) and guided us over to the mausoleum where she lay.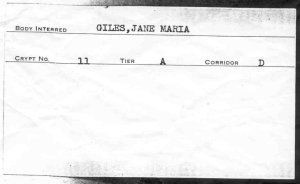 The masoleum is an older building, but beautiful. The corridors inside are paved and lined with marble, and throughout there is a very quiet peaceful spirit. Truly a fitting resting place for a great lady.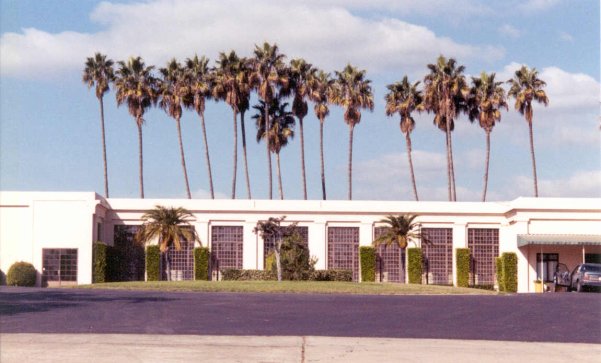 The staff member quickly went inside to locate her "spot", and I got lost trying to follow him, the place is quite a bit bigger inside than it would seem, and there are lots of corridors. Having located her, he came back and found me and led me to the small side corridor where she lay.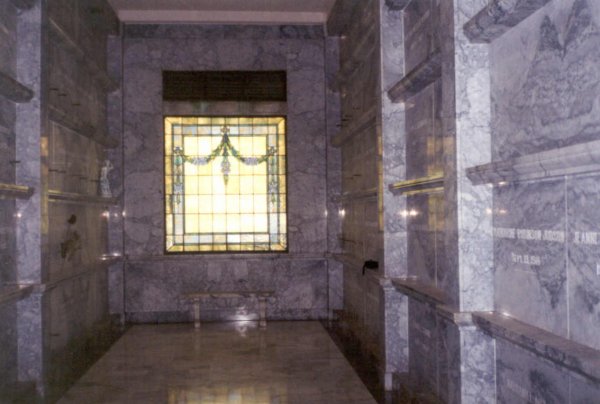 In the picture above, Jane rests near the upper top left. She is on the very top tier near the ceiling. The picture below is my attempt to clarify where she is at.
In the following image, each marble "plate" is a spot where someone is laid to rest. Each has a short inscription. Jane's is on the top row, just to the right of the pillar. Unfortunately the lighting and camera angle makes it hard to see (in this image) the inscription on Jane's "plate".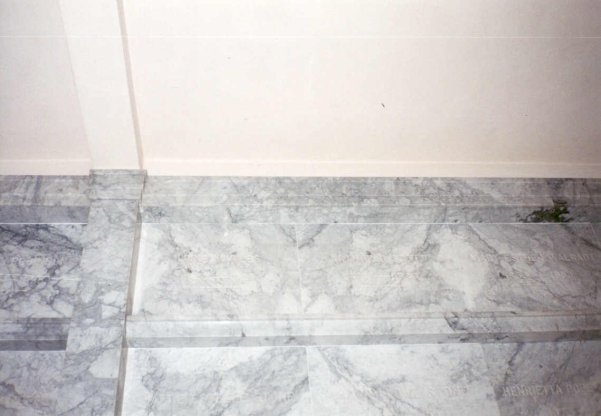 The following picture was taken with a different camera, and provides a bit better view of the inscription. It reads

JANE M. GILES
1840 -- 1926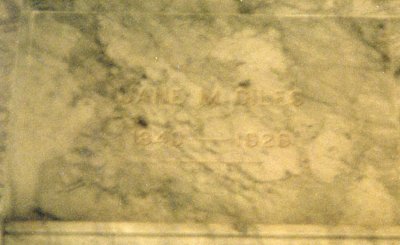 I spent a few quiet moments visiting with "Grandma Jane", (I don't know if that's what she'd want me to call her if she were here today, but I like to think of her in those words), and then headed back out to the car. These last two images show the outside of the corridor where Jane lays. This wing of the mausoleum is to the left of the image of the mausoleum above.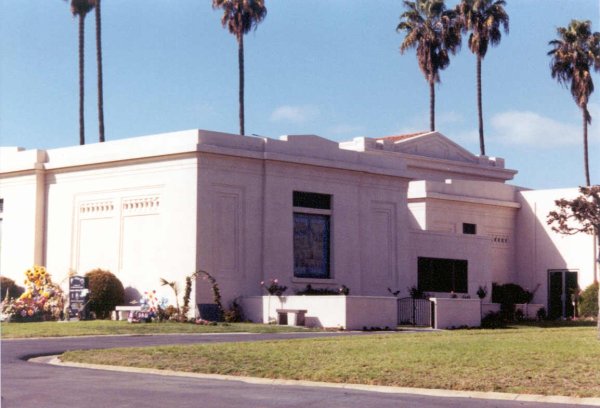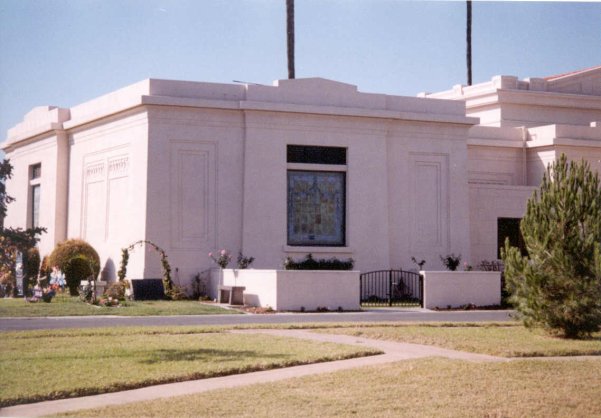 Until we meet again...
© 2008, Daniel C. Hanks