Calling all Descendants of
Ephraim Knowlton Hanks
Let's Get Together!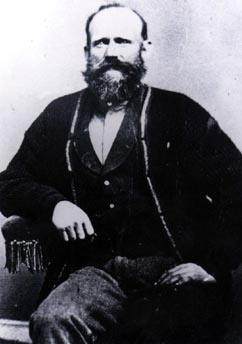 2006 is the 150th anniversary of the Martin Handcart Company rescue
of which Ephraim Knowlton Hanks played a significant part.
In his honor, please join us for a reunion of his descendants
July 24, 2006, 1:00 pm
Willow Creek L.D.S. Stake Center and Pavilion
2350 E Creek Road., Sandy, Utah
Schedule:
1:00 Lunch (Bring your own lunch)
2:00 Reunion meeting

Information:

Please bring a family group sheet of your own family indicating your relationship to Ephraim. (Blank FGS forms can be found at familysearch.org).
Help us publicize the reunion by contacting others of your Hanks relatives. You can download and print a PDF version of this announcement to hand out as a flyer: eph_hanks_reunion_flyer.pdf
For further details, contact J. Phillip Hanks at (801) 943-8758, or email Dan Hanks dhanks@hanksplace.net.
Driving directions
From I-15, take either the 9000 South or the 10600 South exit. Go east to 2000 East (Highland Drive). Turn east on Creek road (about 8100 South), to 2350 East.
You can use the + and - buttons on the map to zoom in and zoom out. Double-clicking on any point on the map will center the map on that point.
Additional options for those desiring to learn more about Ephraim:

Tour of Martin's Cove, Wyoming
Tour to Mountain Dell Pony Express site, with monument dedicated to Ephraim
Attendance at the Mormon Handcart Pageant, Nephi, Utah, evenings of July 26-29
© 2008, Daniel C. Hanks